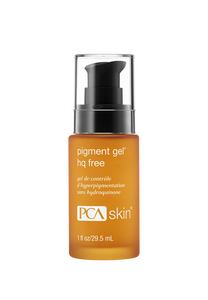 A spot treatment serum to promote an even skin tone.
Hydroquinone-free formula for those who are unable to tolerate hydroquinone
Highly effective for all types of uneven skin tone
Ingredients:
Phenylethyl resorcinol - an antioxidant that promotes an even skin tone.
Azelaic acid - helps promote a clear complexion and an even skin tone.
Kojic acid - helps promote an even skin tone.
PCA Skin Pigment Gel® HQ Free Rull ingredient list:
Water, Alcohol Denat., Hamamelis Virginiana (Witch Hazel) Water, Lactic Acid, Butylene Glycol, Kojic Acid, Azelaic Acid, Alcohol, Hydroxyethylcellulose, Phenylethyl Resorcinol, BHT, Glutathione, Silybum Marianum Fruit Extract
DISCLAIMER: We are an independent buisness from PCA skin. You are not ordering products directly through PCA Skin. Therefore, all returns/exchages will go through Spa 3:16 and not PCA Skin. Please see our return page for more information on returns and exchanges. We urge all customers to see a dermatologist or licensed skin professional on a regular basis to ensure all products used are the correct fit for your skincare needs. Due to PCA Skin policy, we do not sell or ship to customers outside of the United States.