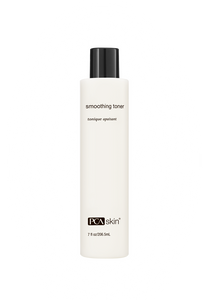 This toner is formulated with aloe, as well as lactic and citric acids, to refine pores, remove superficial dead skin cells, and leave the skin smooth and clear.
An alcohol-free formula clears debris without over-stripping skin
A blend of botanicals provides astringent qualities to reduce the appearance of pores and calm the skin
Ingredients:
Aloe vera leaf juice - a purifying ingredient that softens and soothes the skin.
Botanical extracts - marigold, goldenseal, cucumber, sage, guarana and ivy extracts reduce the appearance of pores and calm the skin.
Lactic acid - found in milk and sugars, this ingredient moisturizes and smooths the skin.
Full ingredient list:
Water, Lactic Acid, Citric Acid, Glycerin, Arctium Lappa Root Extract, Calendula Officinalis Flower Extract, Cucumis Sativus (Cucumber) Fruit Extract, Hedera Helix (Ivy) Leaf/Stem Extract, Hydrastis Canadensis (Goldenseal) Extract, Paullinia Cupana Seed Extract, Salvia Officinalis (Sage) Leaf Extract, Tetrasodium EDTA, Aloe Barbadensis Leaf Juice
DISCLAIMER: We are an independent buisness from PCA skin. You are not ordering products directly through PCA Skin. Therefore, all returns/exchages will go through Spa 3:16 and not PCA Skin. Please see our return page for more information on returns and exchanges. We urge all customers to see a dermatologist or licensed skin professional on a regular basis to ensure all products used are the correct fit for your skincare needs. Due to PCA Skin policy, we do not sell or ship to customers outside of the United States.