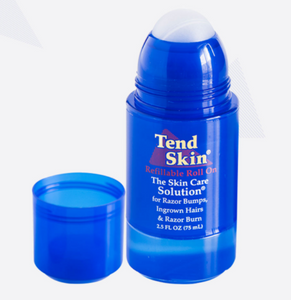 Since Tend Skin® Liquid first hit the market in late 1994, customers have asked for an easier way to apply it to the skin. Using a cotton ball to apply the product wastes a lot; the cotton ball tends to fall apart and the fingers start to peel a few days later.
The search for an acceptable system was hampered, because we could not find a package that would ship or be useable without leaking.
After 911 we started getting requests for an "airline legal" package to avoid confiscation when taking the product on a flight We tested many systems and finally found a quality package in 2008.
Our new package is a 2.5oz refillable "roll-on" with an improved formula. The package has four parts; a reservoir that holds the product, a roll-on ball sleeve into which the product reservoir screws so the roll-on can be used, a cap that tightly seals the reservoir during shipping, travel and while it sits on a shelf waiting to be sold, and a cap over the roll-on ball.
SAVE THE RESERVOIR CAP for travel to assure there is no leakage into luggage.
Not only is the 2.5oz package airline legal but it can easily be refilled from a standard Tend Skin Liquid bottle . This means you can save money by purchasing the large size Tend Skin Liquid bottle and using it to fill the roll on package.
Now you have the benefits of using Tend Skin Liquid with the convenience of a roll-on that minimizes product waste. No more cotton balls or peeling fingers!
DIRECTIONS:
Remove shrink film. Product separates into two pieces, a reservoir bottle with a cap and a sleeve which has the roll-on ball and a cap over the ball.
Remove small cap from reservoir bottle. Save cap for travel use. Insert reservoir bottle back inside the roll-on sleeve as it was before removal of shrink film. Screw the reservoir bottle into the roll-on sleeve. The product is now ready for use.
Remove cap over roll-on ball as per standard roll on package and apply to skin